Mission Statement
NO CHILD SHOULD GROW UP HUNGRY IN AMERICA. But one in five children struggles with hunger. Share Our Strength's No Kid Hungry campaign is ending childhood hunger in America by connecting kids in need with nutritious food and teaching families how to cook healthy, affordable meals. You can help surround kids with healthy food where they live, learn and play.
How Funds are Spent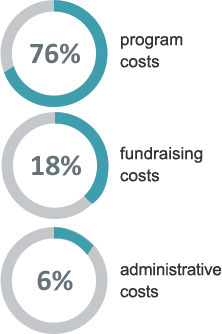 Donate by Mail or Phone
Please mail your donation to:
Share Our Strength
P.O. Box 75203
Baltimore, MD 21275-5475
Or call (800) 761-4227
Share Our Strength is a registered 501(c)(3) private, nonprofit organization.
Federal identification number: 52-1367538
Share Our Strength is a nonprofit and uses donations to connect children facing hunger with nutritious meals in their communities, homes and schools. Gifts made to Share Our Strength will leverage the time, expertise, and additional funds needed to end child hunger in America. Bake Sale proceeds are not tax-deductible. All donations that were not used to purchase a baked good or other item are tax-deductible to the fullest extent of the law. Donate today and help us provide a hungry child his next meal.